How to upload your videos to YouTube
This webpage will show you how to upload videos to both YouTube and Rumble. We will start with YouTube.
Create a Google account
Google (Alphabet) owns YouTube. To get started with a YouTube channel, you must first get a Google account. This is how to do it.
Go to Google account sign in.
Click Create account.
Enter your name.
Enter a username in Username field.
Enter and confirm a password.
Click Next.

Optional: Add and verify a phone number for your account.

Click Next.
If you could not set up a Google account with those instructions, click here.
Create a Youtube account
This is how to create a YouTube account.
Go to YouTube.com and click the Sign Up link.
Enter your e-mail address and a password.
Fill in the Re-type Password and Username fields.
Record your username & password in a very safe place.
In the Location drop-down list, select the country where you live.
Enter your zip/postal code.
Click to select your gender and enter your date of birth.
Type characters (letters and numbers) from coloured box into Word Verification field.
Check or uncheck box that says: Let others find my channel on YouTube if they have my email address.
Check the Terms of Use, Privacy Policy box.

Click the Create My Account button.
Finally, upload to YouTube
After your video is finished, saved & on your ScreenFlow screen, click File > Publish to > YouTube. In the first  Publish to YouTube box you should likely change Video Encoding to 1440 and then click Next. In the next box fill in the Title, Description and tags and then click Next.
(The tags are words you are hoping people will search for to find your video.)
How to upload a video to Rumble
To upload a file to Rumble you will need to first change your video to an MP4 file. To do that, have your finished video open in ScreenFlow and click File > Export.
Then you will get a panel like the one to the right. Make sure you like the name
and then click Export.
Your MP4 file will soon show up in your Desktop folder.
Go back to your ScreenFlow video. Scroll around the timeline until you find an image that will make an ideal title shot for displaying your video on Rumble. Press Cmd/Shift/4 and draw a rectangle around your title shot.
Your title shot will display in your desktop folder with a name beginning with Screen Shot. Select that file and press Enter. Give it a descriptive name with a PNG extension.
Go to rumble.com and create an account.
Record your new username & password in a safe place.
Login and click on your username in the upper right-hand corner.
Click on Upload your video.
Drag your MP4 file into the white box on the left.
Fill in the form similar to what you see below.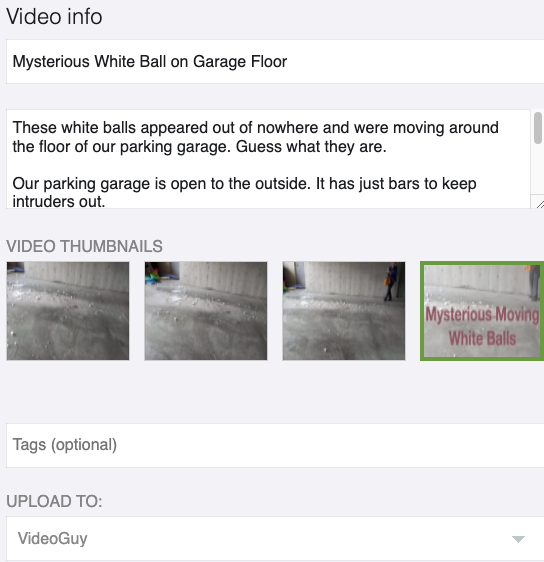 Click the green Upload button.
You will get 4 licensing options. I usually use Video Management because I want to monetize my videos.
(Expect to require 1000 downloads daily before you make decent money.)
Check the 2 terms & conditions boxes & click Submit.
In a minute or so you will get some code like you see below. Copy the entire snippet of code into you clipboard and paste it on one or more of your web pages. Each time you add it to a web page, you will be increasing the likelihood that you will reach that goal of 1000 daily views.
(Note that this code snippet is not complete. It has to end with </script>.)