Using a template within a video title 
When you make many videos and include the same graphic in many of them, it is expedient to have a template. For instance, in my videos I want people to know that they are made by VideoGuy. I'm trying to brand myself as VideoGuy. In this animated GIF the graphic and red text  will be used over & over in many videos. This template has lots of white space in which to add a title.
Summary of this web page
The contents of this web page are summarized in the 3-minute video below. Watching it will help you follow the instructions below.

Create a template using Keynote
You will use a program called Keynote to add animation to your video. To start, click the plus sign near the upper left side and then click Blank Slide.
Drag and drop a graphic from Finder into the lower left-hand corner of your screen. Click the text icon (T). A little rectangle with the word "text" appears.
Click on it and add the text you wish to be beside your graphic. Click on Format to change the boldness, colour and font size.
Click on Animate to add build in animation to your graphic & text. Click on the Play button to check your work.
Change into an animated GIF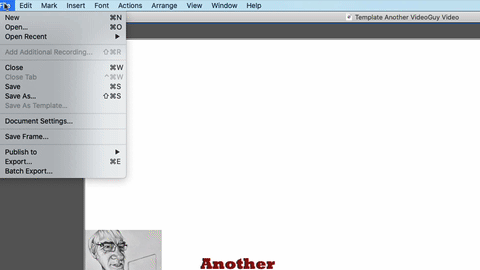 If you like it, record the animation with ScreenFlow. Give a descriptive name to your video beginning with the word "Template". Then click File > Export > Manual > Animated Gif > 25% of original > Export.
Right-click on the name of your file in Finder. Copy the file into your clipboard. Then paste it into a folder (with a name such as GIFs) that you have up in the cloud. (The cloud could be something such as Google Drive.)
Combine template with video title
Go into the cloud (e.g., Google Drive) and open the folder that contains your templates.
Drag and drop the appropriate file into a new Keynote slide.
Click the text icon and type in the title of your new video.
Format it to have the appropriate boldness, colour & font size.
Give it the Build In Action of your choosing.
Click the Play button to make sure you like the way the title shows up.
Record it with ScreenFlow.
Add the title snippet into the front of your latest video.