1.

Record entire screen with ScreenFlow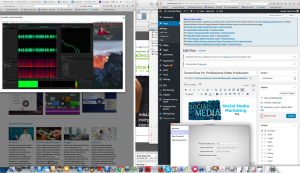 With ScreenFlow you can make a temporary video of everything that is happening on your computer screen. For instance, you could create moving text and images using Keynote then record that movement with ScreenFlow.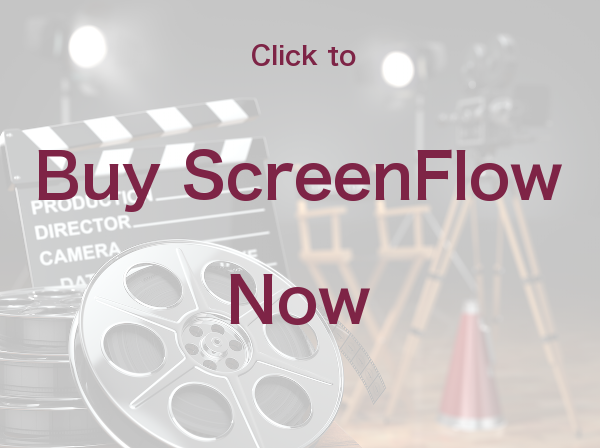 You can download the entire ScreenFlow program for $169 (USD). (Note that I will get a small commission if you buy it here.)
Note that by clicking on the Buy Now button you can download a FREE TRIAL of ScreenFlow. You can use ALL of the features. However, when you save a video, it will have a watermark on it.
2.

Zoom in on a portion
You can zoom in on any portion of the screen and isolate it for as short or as long a time as you wish.  In this image, I have isolated a video that
was playing on the screen.
For example, you may create an entertaining presentation using Keynote or Powerpoint. When you click the Play button, you will play that presentation on your computer screen.  Then you use ScreenFlow to record what is happening on your screen.
When you play it back, your presentation plus everything else that is on your computer screen will be recorded. Then you zoom in on your presentation and everything else on your screen will be deleted.
3.

Have audio & video on a ScreenFlow timeline
Below your actual video you have a timeline on which you can arrange your snippets of audio and video.  The top video snippets will be the ones that will be displayed.  The music and spoken word will be combined.  (See point #4 below.)
4.

Have music soften while word is spoken
Using a ScreenFlow feature called audio ducking, you can cause the music to soften whenever you have snippets of spoken word.  When the speaking stops, the music will get louder.
5.

ScreenFlow to use a green screen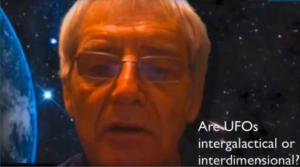 Add a background by using a green screen.  In this image I took a video of myself talking with a bunch of green bristol board in the background.  Using ScreenFlow, I was able to remove that green color and replace it with a video of outer space.
6.

Background image
Using GIMP and Keynote, you can fade an image so that it become the background of other images.
7.

Text moving in ScreenFlow video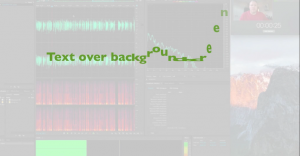 Using Keynote, you can have text moving onto the screen in 29 different ways.  In the example, the text is moving in with the "squish" effect.
8.

Record microphone OR computer audio
Perhaps you are recording, say, a YouTube video.  Then you would record the computer audio.  At some point on that recording, you may want to speak your own comments.  So, you would discard a snippet from the computer audio.  You would replace it with a snippet you had created with your own microphone.
9.

Record yourself speaking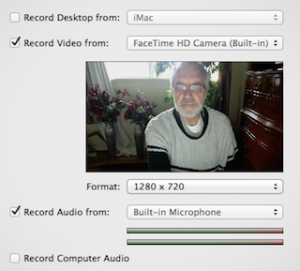 As you can see from the image in point #8, you can record yourself with the built-in camera or an external camera.
10.

Record for a specific period of time with ScreenFlow
You can set your screen recorder for a specific period of time and then walk a way.  For instance, you may wish to record a half-hour archived TV program.
11.

Add callout areas
Highlight and enlarge any area of the screen that you wish to emphasize.
12.

Add closed captioning
Add closed captioning to the bottom of your screen to accompany the spoken word.
13.

Export as MP4 file
Export a video to your desktop as an MP4 file.  Then email your video to a friend or colleague.
Note that videos you add to a Facebook page will be MP4 files.
See example.
14.

Publish to YouTube, Etc.
After you finish your video, use the ScreenFlow software to quickly publish it to YouTube, Vimeo, Google Drive, Dropbox, Facebook or Wistia.
15.

Videos for teaching
Teachers can create educational videos that students must look at as part of a homework assignment.
16.

Presentations for gamers and web developers
Record your game session, iOS screen or computer screen. Highlight areas of interest, add text, then save it as a professional-looking Gamecast, App preview or software demonstration.
17.

Improve your blog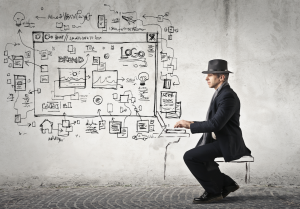 Bring new life to your blog by adding the occasional video or animated GIF. The easy-to-use, timeline-based video editing interface is perfect for editing product reviews, recording Skype interviews, creating product demonstrations or producing engaging viral content.
18.

Marketing promotional videos
Record your video, and combine with screen recorded content or Keynote & PowerPoint presentations. Add in animations, images, text, a soundtrack, and you've got a polished-looking video that helps sell your product or company.
19.

Expand video clip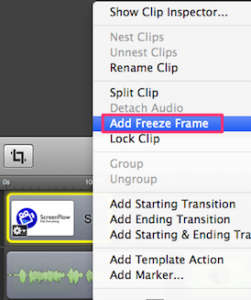 Sometimes there is a gap between video clips.  One way to fill the gap is to add a freeze frame.  That will expand the clips in such a way that the last image will be a still shot for as long as you want it.
20.

Slow motion
You can make a video go in slow motion.  The animated GIF below made with ScreenFlow has two images of the same juggler.  One is going at quarter speed.
21. Two videos on one screen
To create the above video, I created two MP4 videos.  One was regular speed and the other was slow motion.  Each were half the width of most of my videos.  Then I dragged each of the MP4 videos from my desktop into a single Keynote slide.  Then I saved it as an animated GIF.
22.

Video transitions when changing topics
When changing topics in a video, you might want to overlap two clip snippets and insert what is called a transition.  That is an unusual change to the screen to indicate to the viewer that a change is happening.  Watch the animated GIF below.

23.

Speed up ScreenFlow videos
In the video below, the editor had a number pictures of dogs and cats in a video clip.  Individual pictures were slowing up relatively slowly.  He was able to speed them up three times faster.
24.

Adding Solid Shapes with ScreenFlow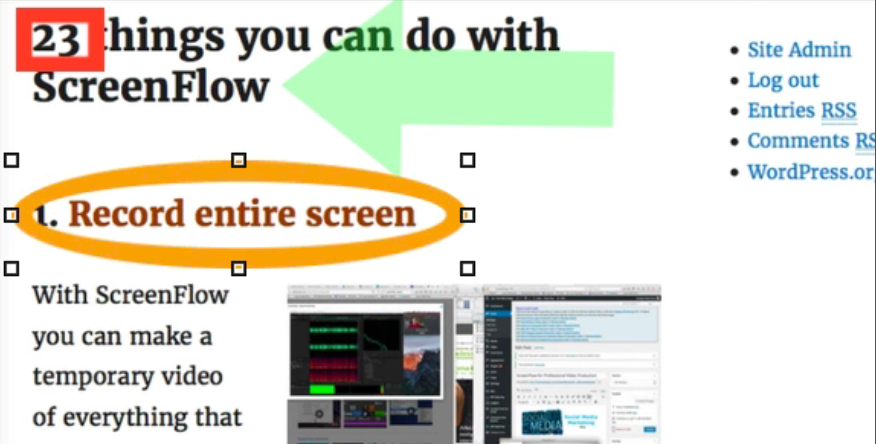 In order to emphasize words, numbers, etc., you can add solid shapes such as the ones you see in this example.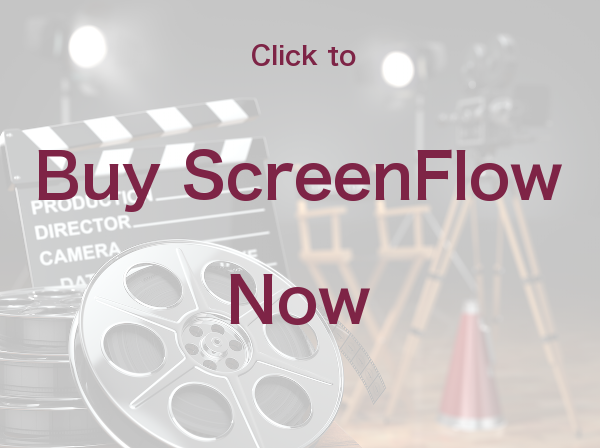 25. 
Make Animated GIFs
Design something fast with Keynote.
Record with ScreenFlow.
Give it a maximum dimension of 500 px.
Edit down to less than 15 seconds.
Export
Set preset at "animated GIF"
(See the blog post about creating animated GIFs)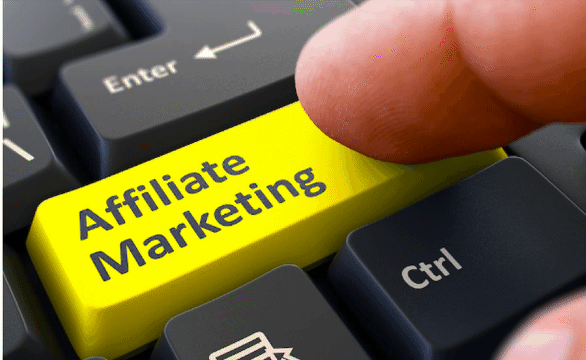 26.
Make pulsating images
Video Motion feature to add special effects such as pulsating to images
See blog post about Video Motion
27.

Change cursor movement to translucent circle with ScreenFlow
Make instructional video with cursor movement
Use Screen Recording feature to make cursor movement more obvious
28.

Reverse clips with ScreenFlow
You can make any video clip move in reverse. In this image and orange fell off the girl's head. Then that clip was copied and pasted again on the ScreenFlow timeline. This time it was made to run in reverse.
And much, much more
There are many features of ScreenFlow that were not even covered on this page.
How much does it cost?
The entire ScreenFlow package can be downloaded for $169 (USD).  Buy or get a free trial here.
Amateur videos
Here are a couple of YouTube videos that were created with ScreenFlow.
Professional Videos
Below are three different professional videos created by the ScreenFlow people.  They describe some of the many features of ScreenFlow.
 Don't have a Mac?
You need a Mac to use ScreenFlow.  If you are serious about wanting to create video, make sure your next desktop computer purchase is a Mac.