Upgrading problems
Below are problems I'm having getting ScreenFlow 10 set up. Below each problem will (hopefully) be resolved.
Page summary
To help you understand the rest of this page, watch the 3 minute video below.
Downloading ScreenFlow 10
I clicked the Download link. I was asked to click on this link: ScreenFlow-10.0.5.dmg. It did NOT go into my downloads file. So, I searched Finder for ScreenFlow-10.0.5.dmg.
I double clicked on it and, using the panel I got, I added ScreenFlow to Applications. I went into the Applications folder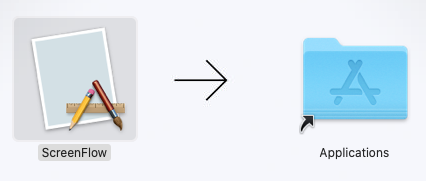 and added a "10" to the ScreenFlow name. After that,
the ScreenFlow icon was automatically added to my dock. When I click on that icon, "ScreenFlow" appears in the upper
left of my computer screen.
However, I was unable to open any of my files from ScreenFlow 8.0. I was able to find my files by going to peterenns > Movies  > ScreenFlow data.
As you can see from the animated GIF above, I can make videos but they have a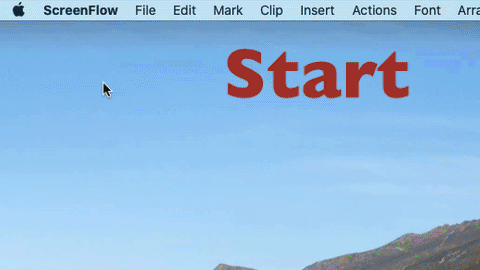 watermark.
Then I went to ScreenFlow > Preferences > Licenses and clicked Activate. Note that there is no longer a watermark.
The ScreenFlow 10 license has been activated. However, I still cannot download any audio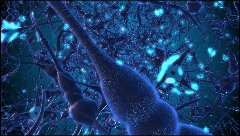 files from the library. I can download video files. I used a download to create this animated GIF of a brain.
ScreenFlow 10 audio problem solved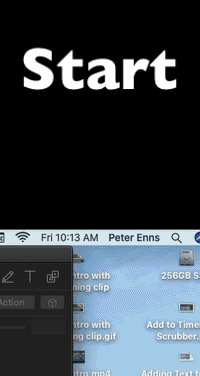 To get audio files into your timeline, click on the 2 overlapping squares as you see above.
Look at this animated GIF. Notice how the words "anxious" and "calm" were typed into the box below the media.
Anxious will give you all sorts of pictures and music with an anxious subject. Typing "calm" will produce calm pictures and music.

To add the music to your video, drag a blue wave form onto your timeline.
If you double-click on one of the blue waves forms, you will get two play buttons above your timeline. The play button on the left makes the corresponding blue wave form play the music.
If you like the music, simply drag in onto your timeline.
If you want to hear what the music clip sounds like, right-click on the wave form and click on Show in Clip Editor. If it is not already there, a clip editor will show up above your timeline and you simply click the Play button.
Subscribing to image/video/music service
I was once creating a video and I wanted to illustrate the word immunity. So, I searched for it and found the video clip you see on the right. That illustrates why it is a good idea to have this service.
Note that to get all of these amazing images, videos and music clips, you have to subscribe to a service through a company called Storyblocks. I bought the subscription through ScreenFlow when I upgraded to ScreenFlow 10. It costs around 5 or $6 a month payable on an annual basis.
I am very grateful to have this service. If I want music, etc. for one of my videos, all I have to do is type in the mood of the music/video/image into the box as explained beside the animated GIF above. I use this service for practically every video I make.
Speaking into the corner of a video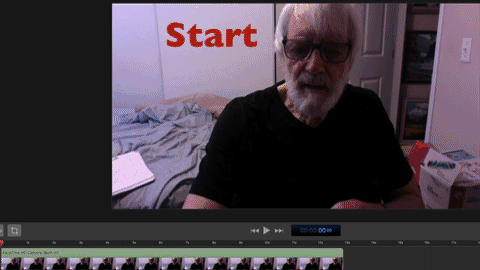 With ScreenFlow 10 it is easy to have your head speaking in a corner of a video. Here's how:
Configure ScreenFlow to have you speaking into a microphone.
Record yourself speaking.
While you are still in ScreenFlow, click on yourself speaking, drag a corner to make yourself small as you see in this animated GIF and press Cmd C to copy it into your clipboard. (Note that all of the screen will be black except for the video of you in the corner.)
Open the video you wanted to speak over.
Move it to the second line of your timeline.
Press Cmd V to paste your "speaking head" video onto the first line of your timeline.
Export your video as an MP4 file.
Free email support for ScreenFlow 10
If you are having trouble with ScreenFlow 10, you may be able to get free support from desktopsupport@telestream.net.
Remove background
Sometimes, when you have a video of a talking head, you may want to remove the background or at least make it fuzzy. You do that by going to the video icon in the upper right-hand corner. Click on video icon > filters > effects > plus sign > background removal > Chroma Key.
Related links