Amusing GIF with reverse action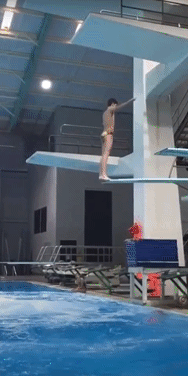 We will show you how to reverse  action on a clip of your video. To illustrate this, we will have video clip of the diving without any reverse action. Then we will show you how to reverse the action in a copy of the same clip.
To accomplish this, we will use the ScreenFlow video editing program. In the lower left-hand corner of the ScreenFlow image below is the clip of the diving sequence before being reversed.
How to reverse a video clip
To make a video:
Move the red vertical line to the end of the  clip,
Click on the video clip to select it,
Cmd C to copy the clip into your clipboard,

Cmd V to paste the clip onto the timeline,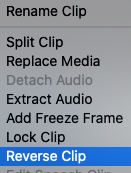 Select the second copy of the clip,
Right-click on it
Click Reverse Clip
Animated GIF
To check your work, make those 2 clips into an animated GIF:
Export > Change name > click Manual > Scroll down & click Animated GIF > Change size to something that would fit on your page > Export. This is illustrated in the animated  GIF below.
Now you will have an animated GIF like the first one at the top of this page. To check your work, select the GIF in your Finder. Then change the Views until you see it in action.
Watch the video below.
YouTube video about reverse action
Watch it here.