Transfer your Android videos
Using Android File Transfer you can transfer Android videos into your Mac computer. This web page will show you how. The related web pages will show you how to turn these videos into entertaining informative videos.
Summary of page
Learn how transfer Android videos to your Mac. It will help if you watch the quick 2-minute summary of the process in the video below.
Start with Android File Transfer in your Mac
Download & install the free Android File Transfer program into your Mac.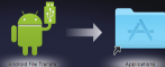 2. Find AndroidFileTransfer.dmg in your Downloads folder & double-click on it.
3. Drag Android File Transfer to Applications.
Find Android videos in your smartphone & prepare for video production
Unplug the cord from your smartphone recharger.
Use that cord to connect smartphone to back of computer.
Click on the Spotlight icon in upper right-hand corner of your Mac, key in Android File Transfer and press Enter.
Under Allow access to phone data on your smartphone, click Allow.
A list of folders including DCIM will appear on your computer screen. (If the list does not appear, do step #3 again.)
Double-click DCIM > Camera.
Scroll down to the date your video was taken.
You will see some MP4 files. They are the videos.
Drag and drop video(s) from that date onto your computer screen.
Drag the MP4 file(s) from the computer screen and drop them onto a ScreenFlow timeline.
Start editing them into a video.
Tip for finding specific video
Suppose you have more than one video made on a specific date. Open the video you want and start to play it on your smartphone. Tap the 3 dots in the upper right-hand corner. Tap Details.
Memorize the last 2 digits of the number in front of MP4. That will indicate the number of the file you want to drag from you Camera folder.
Related pages
Here's an index with links to multiple pages. Each page gives short, concise instructions about some concept involving video creation.